Alliance Africa Agricultural Co-operative Organization
09 Jul 2018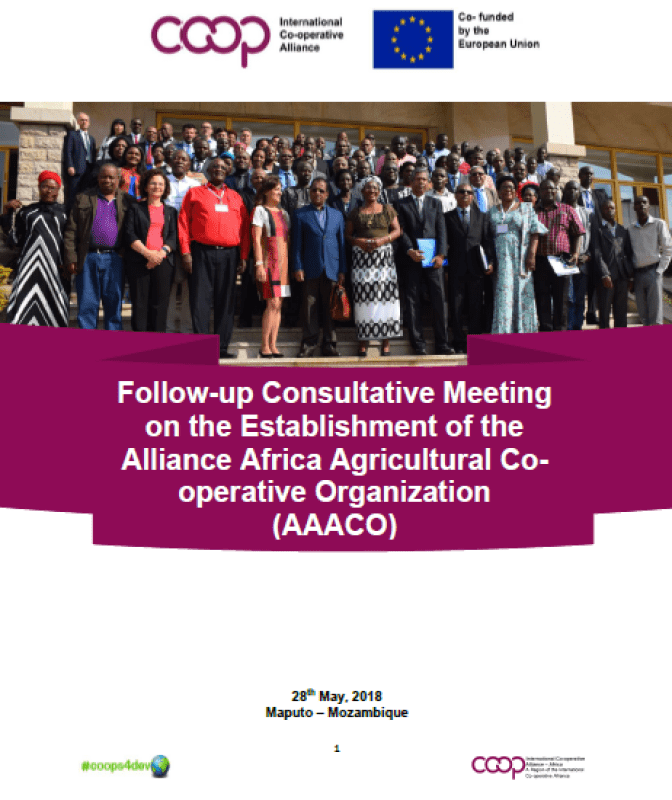 The co-operative movement in the Africa region made a step forward after establishing the Alliance Africa Agricultural Co-operative Organization (AAACO) during a Regional Development meeting held on the 28th May in Maputo-Mozambique. This was a follow-up consultative meeting to operationalize the discussions that were held in Morocco last year with the aim of renewing the impetus for African agricultural co-operatives to work together and enhance partnerships leading to a strengthened agricultural sector in Africa.
The Alliance Africa was honored by the presence of Ms. Isabel FARIA-DE-ALMEIDA, Head of Cooperation Delegation of European Union to Mozambique who gave the keynote speech. The meeting saw 143 participants (96 male and 47 female) dialogue on the progress made since the previous meeting in Morocco and agricultural cooperatives present elected an Executive Committee from the five sub-regions to spear head the operations of AAACO led by Dr. Augustine Katabarwa as Chairperson. Mr. Guy Tchami from ILO Co-operative Unit presented the findings from joint study by ILO/ICA Africa on cooperative competitiveness and potential for export and import in selected Southern African Development Community (SADC) countries. This further indicates the viability of AAACO in promoting the coop-to-coop trade in Africa region.  
Some feedback about the meeting from a participant "The meeting was best suit for management; I like the fact that we had various experiences from different organization and countries, this will improve the management in our cooperatives and alliances" shows that those that attended found value in the discussions.
The meeting was organized under the ICA-EU Partnership project entitled "Co-operatives in Development: People-Centred Businesses in Action" mostly termed as #ccops4dev whose overall objective is to strengthen the Alliance, and their regional offices. Here find the Alliance Africa Agricultural Co-operative Organization (AAACO) Report.