Co-operative Leaders/Managers and MCTC Meeting 2018
09 Jul 2018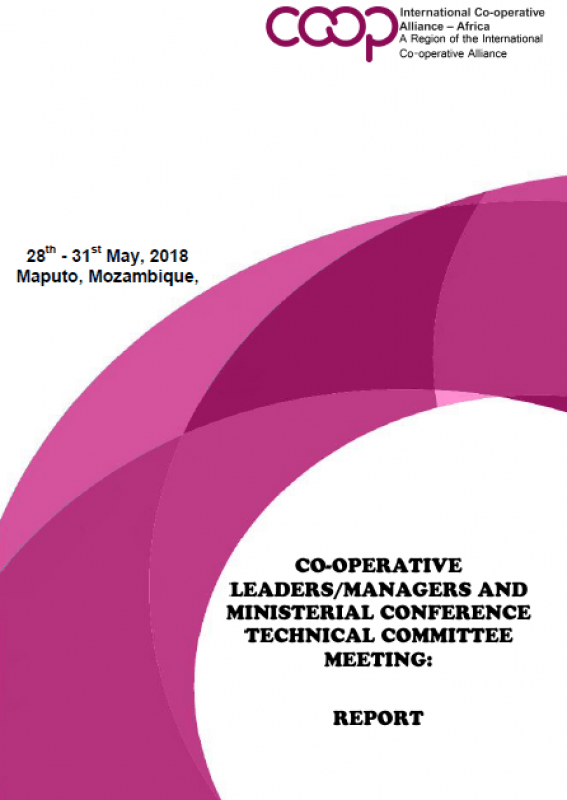 The Alliance Africa in its commitment to unpack and raise awareness of the 17 Sustainable Development Goals (SDGs) organized this year's Co-operative Leaders/Managers and Ministerial Conference Technical committee (MCTC) meeting under the theme "Co-operative for Zero Hunger in Africa" highlighting SDG2- Zero hunger. The meeting took place from 29th to 31st May, 2018 at AFECC Gloria Hotel in Maputo – Mozambique and was co-hosted by AMPCM (Associacao Mocambicana Para Promocao Do Cooperativismo Moderno).
153 participants from Angola, Belgium, Botswana, Burkina Faso, Ethiopia, Eswatini (Swaziland), Finland, Italy, Kenya, Lesotho, Malawi, Mauritius, Mozambique, Nigeria, Rwanda, Somalia, South Africa, Tanzania, Tunisia, USA and Zimbabwe attended the event. Among the participants were Hon. Bholah Soomilduth- Minister for Business Enterprise and Co-operatives in Mauritius and the Deputy Minister, Ministry for Justice in Mozambique.  
In day one, discussions and presentations revolved around causes and mitigation strategies for food insecurity in Africa; how the private sector, CSOs, UN Agencies and National Authorities can cooperate to achieve SDG 2; what needs to be done by co-operatives in Africa in eradicating hunger by 2030 and development of action plans by co-operatives to achieve zero hunger.
During the second day country progress reports were presented by the country's cooperative Commissioners/Registrars/Directors who also drafted the agenda for the upcoming Africa Co-operatives Ministerial Conference (ACMC) that will be held in Abuja-Nigeria from 4th – 7th September, 2018. Download the Report here.